Waffle cup
For most grown-ups, a waffle cup is one of their best childhood memories. Favorite delicacy in an edible dish. Today, a glass of thin, slightly crunchy waffle dough filled with classic premium full ice cream or high-fat ice cream with new bright flavors makes them, their children and grandchildren happy. This is a perfect example of how tradition in form was complemented by modern content in taste.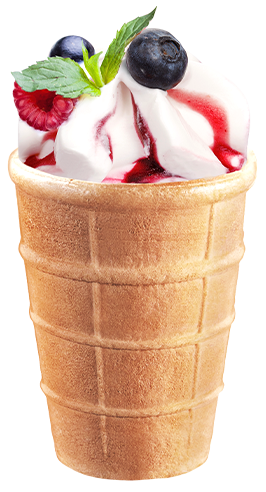 Light and crunchy
With a moderate amount of sugar
Made from premium flour
Sugar cone
Crispy sweet waffle rolled into a cone that is comfortable to hold in your hand. The variety of flavors of the ice cream itself, from classic to ultra-trendy. Their magnificent duet will not leave anyone indifferent. And a very important point - the ice cream in the cone does not have time to melt while being eaten, thanks to the special shape of the "sweet package" and the layer of chocolate inside.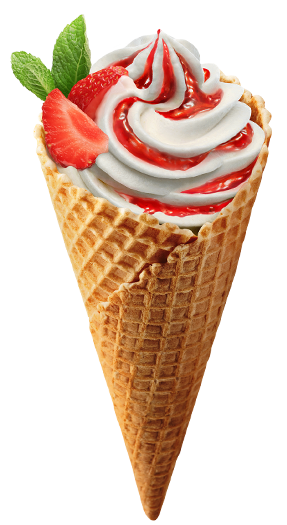 A layer of chocolate inside
Made from premium flour
Ice-cream on a stick
Chocolate-covered ice-cream, high-fat ice-cream on a stick, high-fat ice-cream in juice glaze are produced in the most popular form among children and young people. A convenient wooden stick allows eating ice-cream from any side. You can treat yourself to a delicacy "on the go" and at the same time your hands will remain clean. And, of course, this is the best choice for those who do not want to mix the taste of cold sweetness with the taste of dough, even though as amazing as in our cups and cones.
Chocolate glaze layer
Convenient stick shape